🌐 What is Smartsheet?
Smartsheet is an application that tracks and stores information. Think of an Excel spreadsheet.
Now I thought I was missing out on something when someone went on and on at work talking about this software.
I am sorry but no. Just no.

💻 The Interface
I will say the majority of me veto-ing this software is the interface. It screams 90s. And not in a good way. If they removed the "Upgrade" and "Invite now" ribbons on the website we might be somewhere.
👀 Views
The views are nice. Something Excel cannot do - however other Microsoft products like Microsoft Lists and Microsoft Planner can do.
📦 KanBan
It's a bit basic. Its words on a card. It doesn't look pretty to me either. Let's be honest it has the personality of toast 🍞. Notion does it better in my opinion (I could be biased because I do love Notion lol).

📅 Calendar View
Again, just no. It screams corporate. It screams outdated. Even just looking at the boxes on the calendar. Ew. Sorry!

📊 Grid View
This is kind of where I lose it. Why would you use this interface? There are slim to none shortcuts. Its slow. Maybe if I didn't know alt+a+c is how you un-filter in Excel - I might be inclined to use this.
I do like the feature that you can directly add people. But is it worth it?

📈 Features
There are some additional features that make Smartsheet interesting. The project dashboard seems intriguing. Something you would have to make in Power BI to get - but here it seems easy.
💼 Reporting Feature
I am immediately overwhelmed with this view. No.

📊 Project Dashboard
This I am a fan of. To set this up in Notion or Power BI would take a significant amount of time.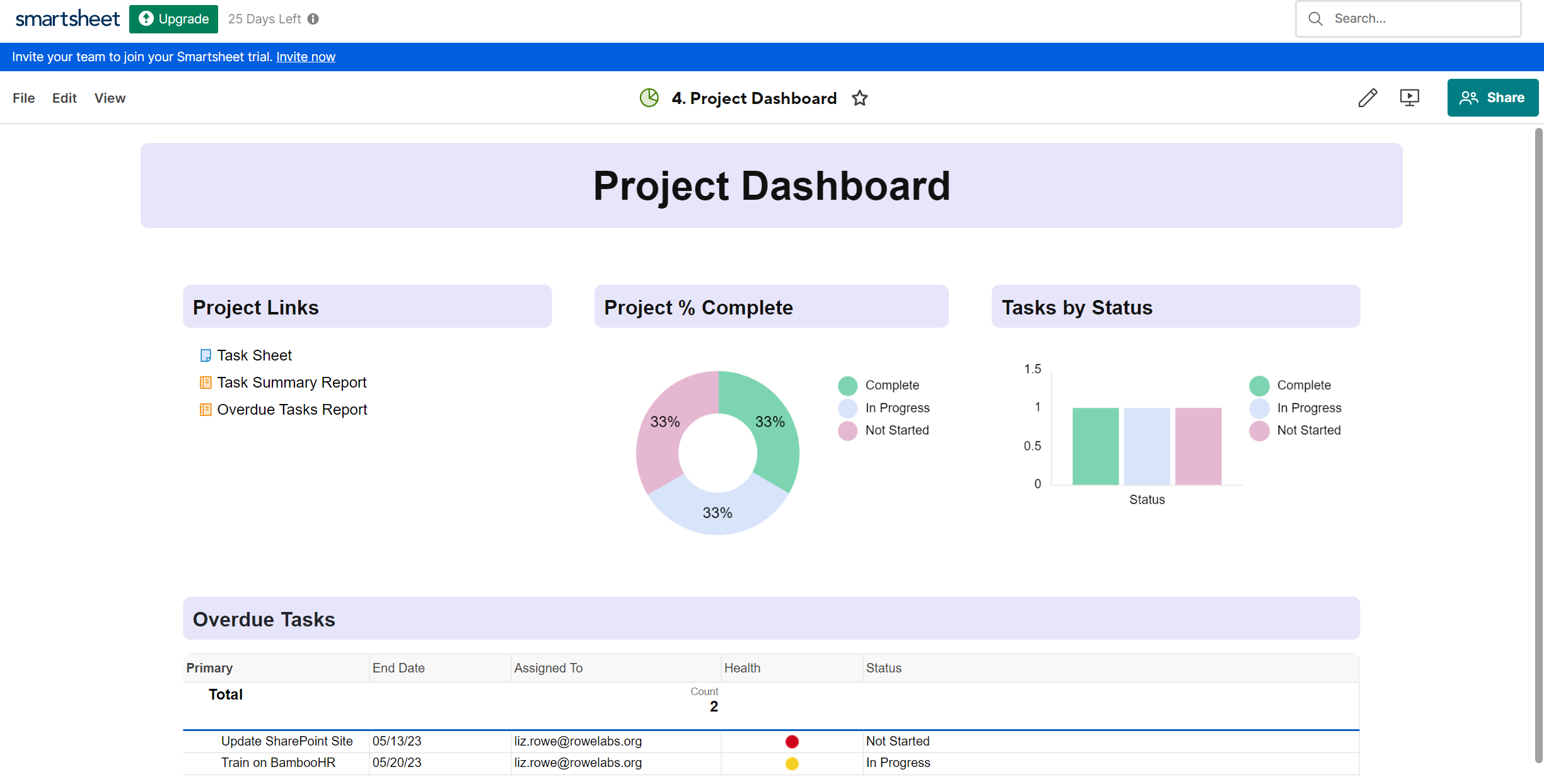 📝 Conclusion
Am I missing something? Why are people so bent on using this software? Even at Intel, I have seen this being used. I see some interesting features that I like but it is not enough to convince me to switch out of Excel.
🔎 Behind the Scenes
My Skillshare class got removed because they consider pipe, conduit and wiring "engineering" related. I am trying not to be mad - but I spent so long on that Excel course. I will put it on Udemy and LinkedIn after I cool off haha.
I have some new software videos coming out in the next few weeks:
🌐 Framer: Website builder which I think personally is the best one I have found.
📧 ConvertKit: Great for managing your newsletters and sending out lead magnets.
🤖 Bubble: Website builder BUT has automations - which is a cool and unexpected twist.
🎬 Latest Video
This weekend I posted a video on my favorite SOP and training manual software called Scribe. I think everyone should use this. I pick on software a lot - but this one gets it right.