Yes, apparently there is a list now... where has this been all my life?
📖 Reading Material
I recently finished a book called 📚 Don't Trust Your Gut by Seth Stephens. He used data science to back up all his findings from relationships to happiness.
📃 Happiest Activities Ranked
The top ten happiest activities involve a lot of nature and exploration which I found interesting.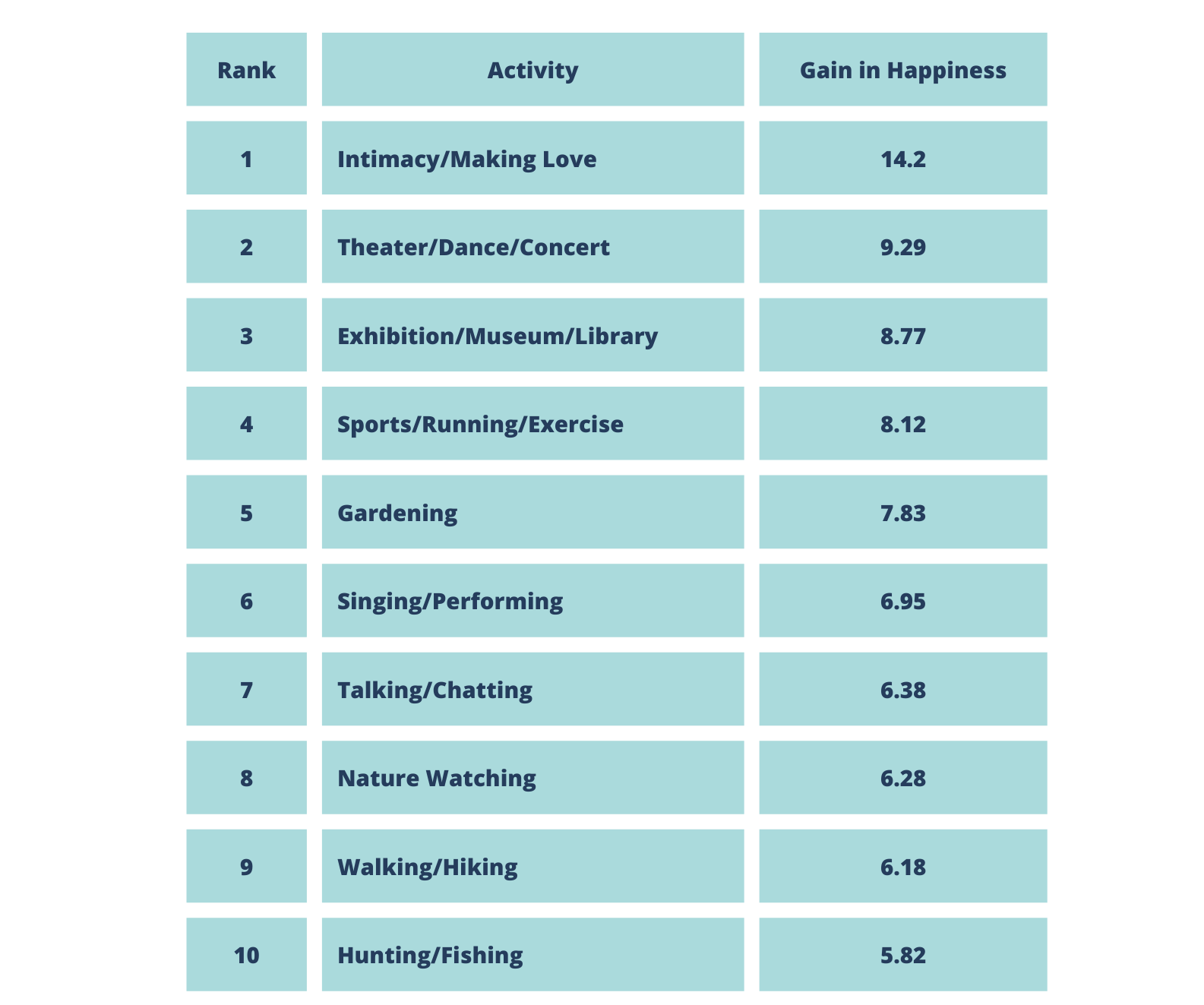 ❌ Overrated Activities
You will see a theme here, not a lot of body movement and not a lot of brain power required to do these activities.
💤 Sleeping/Resting/Relaxing
I would have thought this would be higher on the list but ranks #29 out of 40.
🎮 Computer Games
I don't play many video games anymore because I used to get heavily addicted. This ranks at #22.
📺 Watching TV
I watch a decent amount of TV so it was sad to see it at #21.
💻 Browsing the Internet
Ranking at #31, I am shocked that this is not higher, but it makes sense because you are in total zombie mode.
🍂 Happiest Nature
It does make sense that the environment influences your happiness, especially dependent on the outdoor environment. Here are the top 5:
⛵ Marine and coastal - water on the coast!
🗻 Mountains - get to hiking!
🪓 Woodland - I am assuming this is just trees? lol
🌳 Grassland - walk around some meadows!
👩‍🌾 Farmland -  this may be where I draw the line.. 👀
💭 Big Messages
If you are tempted to cancel plans with friends, don't. Keep this list in mind, you will be happier with friends over watching TV.
Have sex ... outside!
🎬 Related Video